Globally Networked Learning (GNL) provides students with the opportunity to reflect on their educational experience by discussing it with peers in different geographical settings. It gives them the platform to share these learning experiences with global partners and to contribute to a better understanding of issues at stake in the twenty-first century around the globe.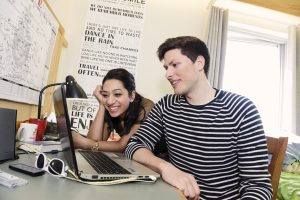 GNL is a form of experiential learning that allows students to explore and assess different conceptual and analytical frameworks, design projects, share research findings, and give and receive feedback in conversation with students and faculty from multiple social, political and economic contexts. It prepares students for future academic success and careers that require international experience. GNL also helps develop their ability to work on projects that require global collaboration and decision-making. GNL also provides students with concrete skills and training in global competence, internationalization, global citizenship, inter-cultural education, and inter-cultural sensitivity - things that are important in an increasingly global job market.
Want to learn more about GNL? Find out more information on workshops, seminars, and focus group sessions for York University faculty members, librarians, and students.